Hilarious!! Nnamdi Kanu reportedly Ran Away, goes into hiding after terrorism charge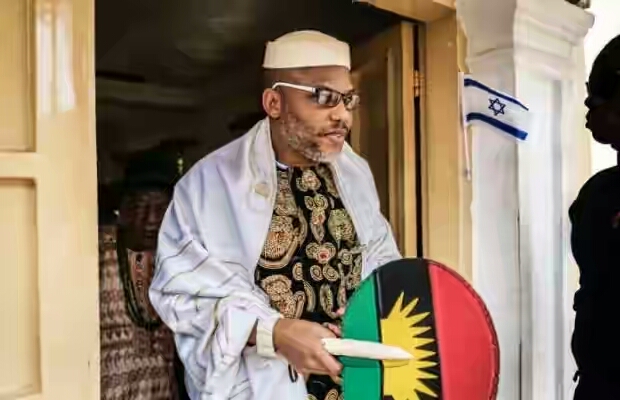 Leader of the Independent People of Biafra, IPOB,
Nnamdi Kanu , has fled and gone into hiding along with top leaders of his group after the Nigerian Army declared last Friday that IPOB and other Pro-Biafran groups were terrorists organizations.
Investigations by SUNDAY PUNCH on Saturday revealed that Kanu and his top lieutenants had 'disappeared' from his country home in Afaraukwu near Umuahia and other places he frequently visited.
His father, Eze Israel Kanu, is the traditional ruler of the town.
Some IPOB members, who spoke on conditions of anonymity to Punch explained that Kanu and others were advised to go underground following the declaration by the Army and the decision of the South-East governors to proscribe activities of pro-Biafra agitators in the region.
An IPOB member said:

"We have to apply wisdom to whatever we are doing. We have realised that there is a grand conspiracy against Kanu and other top leaders of our group.
"Just imagine barely few hours after the Nigerian military declared members of IPOB and other pro-Biafran groups as terrorists, our own governors came up with their own outright ban of our activities.
"This definitely will give the soldiers and other security agencies the opportunity to arrest our leader and mount a deadly clampdown on all IPOB members. So, it is better to operate from a hideout for now."
When contacted on phone on Saturday, Kanu's younger brother simply identified as Fine Boy, refused to tell SUNDAY PUNCH where his brother was, adding that only the IPOB leader could disclose his hiding place.
He said:
1. "Only my brother can tell Nigerians where he is, I can't. I don't know why the Army should call IPOB a terrorist organisation, it is out of their desperation to arrest Nnamdi and frustrate the Biafran struggle. We have petitioned the United Nations and the European Union.
2. "The world knows that IPOB is a non-violent organisation, we don't carry arms, we don't kill, and we believe violence can never solve any problem.
3. "Nnamdi will soon disclose his current location and IPOB will also react to the proscription of the group by the South-East governors' forum."
SUNDAY PUNCH also adds that their investigations on Saturday also showed that security agencies were combing the South-East region in search of Kanu.
Findings by one of their correspondents in Abuja showed that the security agencies had been directed to arrest Kanu and other leaders of his group.
The security agencies that were given the directive, according to investigations, include the military, the police and the Department of State Services.
It was gathered that the government felt that it could be dangerous to leave Kanu a free man till the next adjourned date when his case would come up at an Abuja Federal High Court.
Nnamdi Kanu 's case is said to be coming up later in October
377 total views, 2 views today
Posted by
Lil Fap
on
September 17, 2017
in
News
Comment Section
Comment Counts: (0)